Description
Sex Doll Wonder Woman – Sukiwaai™ (169 cm)
Signature Series – Configuration 1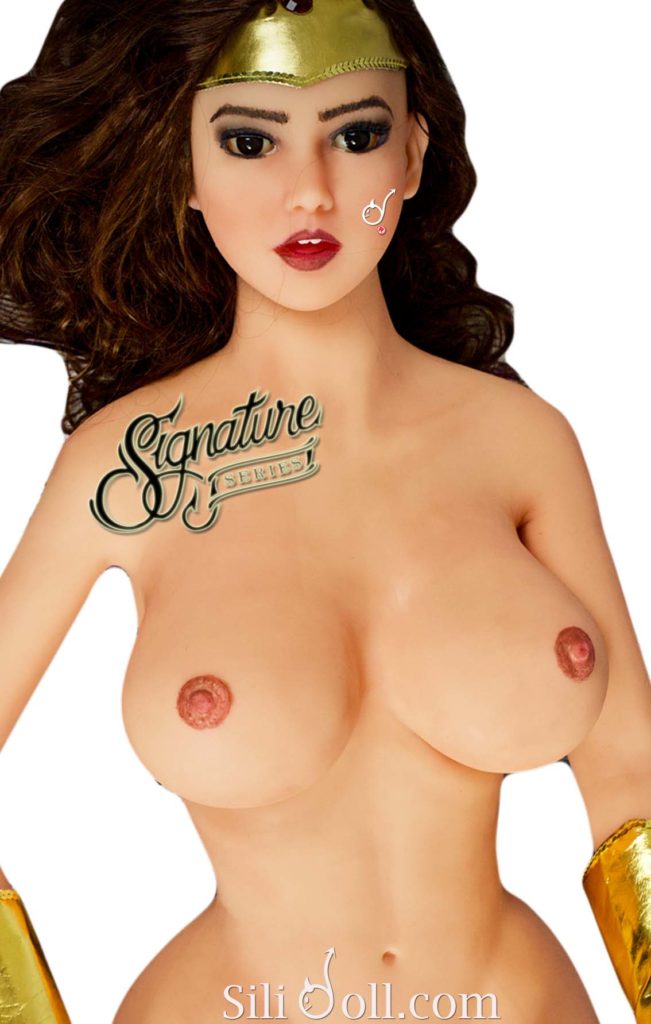 WONDER WOMAN SEX DOLL FOREWORDS BY THE ARTIST
Wonder Woman Sex Doll is a dream for many and we are proud to introduce our second example of a Signature Series doll, Sukiwaai in her Wonder Woman Sex Doll cosplay outfit. She features a concept design, makeup, and assembly done right here in the USA!
By request, we feature a brand new iteration of Sukiwaai, which I like to think of as Sukiwaai 1.5. This Sukiwaai features Sili Doll's new proprietary Korean TPE formula for extra softness that does not compromise durability. In addition, she's built on an updated chassis that has an improved neck, more durable wrists and fingers, and an extra point of articulation in the spine. She's got all the technological developments of Sukiwaai in Sili Doll's flagship body and head.
To achieve Sukiwaai's Wonder Woman Sex Doll Cosplay look, I worked from multiple reference photos of the beautiful and iconic Gal Gadot. A legend in her own right, Gadot's portrayal of Wonder Woman Sex Doll projected this superhero back in to the spotlight. This homage to Gadot's beauty and incredible performances required a tremendous amount of attention to detail. Her big brown eyes, subtle but distinctive lips, and toned body, presented several real artistic challenges that were met through the use of premium powder makeup and the distinctive quality of BodyColor by Missatluer. 
Subtle shading was used throughout her body to highlight Sukiwaai's figure and bring out skin details to match Wonder Woman's dominant athleticism. I used a brighter-than-usual color scheme on Sukiwaai's body to give her an active look befitting a true Amazonian. This Sukiwaai Wonder Woman Sex Doll also features layered BodyColor shades on the lips, nipples, pubic area, and labia to achieve a life-like appearance befitting the Levant's most gorgeous woman. 
All told, Sukiwaai in her Wonder Woman costume is ready to battle some of the baddest evildoers in the galaxy. The question is… can you withstand this Amazonian goddess? 
Stay tuned for more photos 
WONDER WOMAN SEX DOLL is Fully Assembled and customized in the USA – superior softness (
Premium Korean TPE

) and realism taken to the next level for a super realistic sex doll!

USA Assembly: unparalleled realism, beauty and quality thanks to hand assembly in the USA of both the head and body. the most beautiful, lifelike, and most advanced Sili Doll® to date just got better!

Sukiwaai™ Wonder Woman Sex Doll looks just alive and amazingly real. This is made possible thanks to our unique craftsmanship performed on each Sukiwaai™ and fine cosmetics and materials used to literally bring each Sukiwaai™ to LIFE. In that respect, each Sukiwaai™ Signature Series – Configuration 1 will be carefully hand assembled in the USA (California) right before being shipped to you.

In addition to being a true work of art, Sukiwaai™ is also the result of continuous research and development since the first Sili Doll, Suki™. Sukiwaai™ will amaze you:

• Enhanced Korean TPE, in-house formula: visually more realistic with enhanced skin details, sensibly softer and juicier, more flexible, more durable, less odor, and easier to maintain
• Enhanced skeleton: more flexible, smoother and quieter movement, and stronger wrists and neck
• Ultra realistic height of 169 cm: Sukiwaai™ offers incredibly realistic intercourse thanks to this sex doll`s realistic height
• Optimal anal and vaginal alignment: for an enhanced user experience (missionary, doggy style, etc.)
---
Ships from USA California – Guaranteed Delivery – Free Express Shipping with online tracking number
Order to delivered time: only of 15-19 business days only (average) 
Shipping limitations: USA only
WONDER WOMAN SEX DOLL FEATURES
Ultra realistic face thanks to

hand assembly in California, USA

Ultra realistic body thanks to 

hand assembly in California, USA

Life-life height of 169 cm

Ultra realistic curvy sexy body

shape design with gigantic breasts and onion bubble booty, based on Suri`s body
Premium quality medical

Korean TPE

. Phthalates Free and Eco Friendly and EXTRA SOFT
Light japan white skin tone Korean TPE made – simply 

SOFTER

than other sex doll brands 

Our TPE is SGS tested and comply with the European safety and quality requirements (RoHS Directive 2011/65/EU Annex II; recasting 2002/95/EC)
3 penetration holes (oral, vaginal and anal) with different ribbing textures for maximum pleasure
Perfect vagina placement for smooth and easy doggy style vaginal penetration 

 

In-built fully articulated skeleton to assure optimization posture of the sex doll during intercourse
In-built

 

extra deep vagina 

wi

th

 improved vagina realistic design
Improved ultra realistic tits and areola design & skin makeup
Default hair and eyes: brown eyes with brown hair
WONDER WOMAN SEX DOLL DIMENSIONS
Net Weight: 90 pounds (41 kilos)
Height: 169 centimeters
Bust/ breast circumference: 33.9 inches (86 centimeters)
Hips circumference: 20.1 inches (51 centimeters)
Booty circumference: 31.9 inches (81 centimeters)
Under breast circumferences: 24.8 inches (63 centimeters)
Head circumference 20 inches (51 centimeters)
Vagina to head distance: 29 inches (74 centimeters)
Shoulders length: 12.6 inches (32 centimeters)
Legs length: 32.3 inches (82 centimeters)
Feet length:  7.9 inches (20 centimeters)
Arms length: 14.5 inches (37 centimeters)
Hands length: 5.5 inches (14 centimeters)
Anal depth: 7.1 inches (18 centimeters)
Vagina depth: 7.9 inches (20 centimeters)
WONDER WOMAN SEX DOLL: CUSTOMIZE HER FURTHER
If you have additional customization needs, please use our live chat (bottom right).
We can further customize the doll`s hair & eyes color, skin tone, areola size, tits & areola color, etc.
We can share pictures of the customized doll for your confirmation before ship out.
WHAT`S INCLUDED
NEW SUKIWAAI™ 169 cm Signature Series Configuration 1 – Wonder Woman Sex Doll
Original premium Wonder Woman Cosplay Outfit
Extra wig (brown color)
1 additional set of premium lingerie
Free USB heating device (used to heat the penetration holes before use)
Free vibrating bullet device
Free cleanser tool
SHIPPING INFORMATION
Sukiwaai™ Signature Series Configuration 1 (head and body) ships from California USA with online tracking number

FAST shipping

: average 10-14 business days of processing time + 4-5 business days of shipping time ONLY!

Discreet

shipping with possibility to pick up at UPS/ DHL collection point
PAYMENT
Paypal checkout (pay with your Paypal account or your credit card if you don`t have a Paypal account)
Alternatively, we also accept bank wire transfer to our Hong Kong bank account (accounts details shared at checkout), USA bank account,  or USPS money orders to be shipped to our office in California
We start processing your order once the payment received
CHECK OUT THE ORIGINAL SUKIWAAI™ 169 cm SEX DOLL
Click here to discover the original Sukiwaai 169 cm