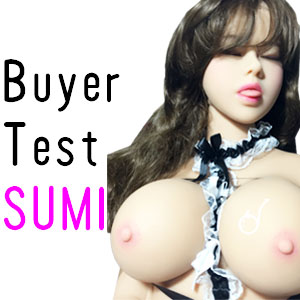 Busty sex doll (Sumi) tested by buyer!
Sumi 135 cm is our latest premium full body busty sex doll featuring a bubble booty and huge breasts.
Originally coming with exotic beach tan skin, we have designed and produced a new Sumi, featuring the same busty sex doll features as the original one, but with Japan white skin, for the many Japanese girls lovers out there 😉
The result is fantastic, as can be see on the buyer`s pictures hereunder of this busty sex doll Sumi in Japan white skin color looks amazing. Sumi looks like a real Japanese girl!
We thank this buyer for his detailed review of his busty sex doll and sex doll buyer`s pictures shared.
Please note the extra softness of this busty sex doll Sumi`s booty and breasts, as highlighted by the buyer in his review.
Should you also be happy issuing on our forum a detailed review with pictures of your sex doll purchase with us, we are happy to offer you a discount: simply use our live chat hereunder to get started 😉
Enjoy the busty sex doll review by buyer
Kind regards, Mig
Quote (Click here for the original posted on our public forum) 
I finally ordered a Sumi 135 cm doll a week ago (8th April), after searching the softest butt on the world which has reasonable price.
My customizations:
– Skin: Lighter color
– Head: Horny head
– Makeup: Natural
– Nails: Not glued (because I don't like plastic feel.)
===== PROS =====
Soft Surface:
When I touched her, I felt 20-30% softer feeling than other TPE dolls. From head to toe, she was made of the same soft material.
Beautiful Breasts:
Her breasts define the perfect shape. I could not stop to photo shooting!
Comfortable Butt:
Just like official video, the softness of butt is perfect. I guess it's the best butt in the "under $4,000 dolls" market.
Portability:
She weighs super light! It's very easy to handle and move her (even upstairs). Maybe the body weighs only 20-22 kg.
Less Odor:
Her smell is very weak. Especially the head has no smell where is the most important part.
===== CONS =====
Short Height:
Compared to other life-sized doll, she looks tiny. So, the butt looks smaller than I expected. It would be nice if they release a larger doll.
No Air on Breasts:
The breasts are all made with a single material, no air cavity in it, so it requires some power to squeeze breasts. I think smaller breasts were appreciated.
===== About Order =====
Payment:
Amazingly fast. I choose international bank transfer (Asia to Hong Kong), and the transfer succeeded in a single day!
Shipping Time:
Super fast. It took only 12 days from the order to receiving (payment + production + shipping = 1 + 8 + 3 days).
Service:
Very well supported. They quickly answered my various questions and kindly accepted all customization preferences like skin color and makeup.
Thank again Sill Doll's staffs for answering any questions and accepting all of my customization preferences!
I highly recommend the shop.
Quote (Click here for the original posted on our public forum)