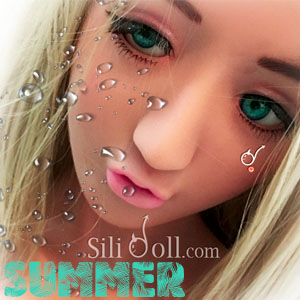 Summer 2018 Sex Doll: New Sili Doll with Ultra Sexy New Body Shapes and Advanced Built
Dear all,
We are very excited to announce our new Sili Doll™ "Summer" for this summer 2018!
Summer is not your average sex doll. She has the more than perfect sexy body shapes that only can be found on the hottest beaches in Miami: breasts, booty and body lines so hot that will be remembered forever. Crystal perfect score at the butt pencil test for sure!
We are confident to say that our brand new mold invested for Summer allows a new level of ultra sexy body shapes that for sure bring Sili Doll to a new level of hotness, not seen before. You have to see Summer to believe it.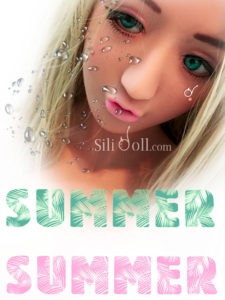 In addition to incredible new shapes, our new sex doll Summer will amaze you with the following new features:
Enhanced ultra realistic skin details: using our historical ultra soft secret formula Korean TPE, the mold for Summer is our most advanced yet and draws highly detailed skin details. In particular, and just to name a few, the abdominal lines, the hand and feet palms, the waist lines and butt cheek lines and lips are very detailed and more realistic than ever. Our new mold even draws a noticeable and realistic clitoris, on top of a new highly realistic vagina design.
A new intercourse experience: with our new Summer sex doll, we have made her different penetration orifices (vagina, anus and mouth) more elastic and potential wider for a more pleasing penetration experience. This will be quite obvious on the relevant pictures to be shown.
New life like cosmetic setup: we are also proud to inform that Summer comes with our newest line of cosmetics, eyes and hair wigs, with innovative color blends giving more visual realism. Please judge by yourself based on the first release picture hereunder
With no further due, please see the first release picture of our Summer sex doll! Whilst checking the picture, may we draw your attention on the effort we made to create this unique sexy lips design that Summer has. Not only will those lips turn one on for sure during intercourse with Summer, but those new hot lips are also for your information optimized for oral sex. Kills 2 birds with one stone. In addition to Summer lips, please have a look at Summer eyes. A new highly vivid and intense light summer beach turquoise obtained by a proper combination of optimal blue and green color pigments, to give you the rarest and sexiest eyes color possible.
As we are currently preparing the full media set for our Summer sex doll, we would be grateful to have your thoughts and in particular what you would like to see in the coming pictures and videos of our new doll. Thanks a lot as always for sharing and for your continuous support to us.
Kind regards,
Mig and Sili Doll™