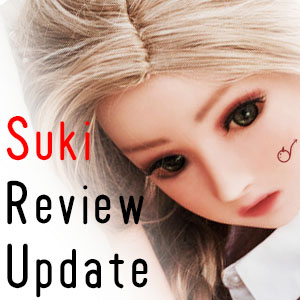 Lifelike Sex Doll Suki 110 cm: New Updated Pictures
Lifelike Sex Doll Suki 110 cm: Management Foreword
Lifelike sex doll Suki™ is probably the most lifelike sex doll that we offer at Sili Doll®.
One month before, our customer Adventurer kindly shared an extensive review with many pictures of his lifelike sex doll Suki™ purchase (please click here to read to the original customer review of lifelike sex doll Suki by Adventurer).
Now, Adventurer has kindly updated his review with even more beautiful pictures showing how beautiful and cute his lifelike sex doll Suki™.
Please see hereunder the extracted updated review. To see the original updated review, please click here.
Enjoy the reading!
Regards, Mig and Sili Doll™
Lifelike Sex Doll Suki 110 cm: Review
Suki lifelike sex doll: 1 Month Update
It's been about one month since I received my lifelike sex doll Suki and I'd like to share a few observations and update the review a little now that the 'honeymoon period' is *technically* over. I say technically because I still adore this lifelike sex doll, and she's still performing well beyond my best expectations. She's changed a little with age and use, but largely in ways that improve the experience.
Customer Support
I mentioned this in a previous post, but since this is my 'official' review update, I think it's worth bringing up again. My particular lifelike sex doll Suki arrived with a few issues that I discussed in the original review, but Mig and Sili Doll have done a great job in taking care of that to my satisfaction. I have even purchased a second doll from them, a Sukiwaai model (new review forthcoming…
). I can say that even in the face of a few problems, I am very satisfied with the way they handled my purchase.
Softness of lifelike sex doll Suki 
In this category, lifelike sex doll Suki only improved with time. She was already fairly soft out of the box, but with play and time, she's become even softer. Her breasts are now incredibly supple and even more fun to play with than before. They are quite realistic to the touch now. Her orifices have softened a bit as well. I more or less keep them lined with vaseline, so they are always ready for play. This also helps with clean-up as well since water just beads off of the vaseline.
Skeleton of lifelike sex doll Suki 
Suki's skeleton has loosened a bit. I've posed her hundreds of different times at this point for photoshoots and to move her into sexual positions. I like to mix it up when I'm playing with her, so frequently position changes are part of the routine with her. Her small size makes this very easy to do and her flexibility allows this to happen on a whim.
The looser skeleton is a net positive, because she is easier to handle now. She still holds poses beautifully, but can be manipulated that much more quickly and easily. I hope her joints do not become too much looser though, or she may begin to have difficulties holding some of the more difficult poses.
Her other wrist has now failed however, meaning both wrists are now floppy. This remains my largest point of criticism of this lifelike sex doll. It seems like this is a consistent issue on TPE dolls in this size range, so I hope all manufacturers take note and redesign this part of the skeleton.
I'll also reiterate that I'm glad she does not have finger wires, because I've had several "oh shit" moments with her hands (like getting stuck under me as I roll her over) that would have probably caused damage if there was an internal structure. Instead, the fingers just stretched like crazy and returned to their original position immediately and without incident. I can see the advantage of finger wires for serious photography on a larger doll, but as a lifelike sex doll, not having them is a major benefit.
Final Impressions on lifelike sex doll Suki 
Other than the wrist issue, Suki has shown tremendous resilience to wear and tear. I've not been easy on her, as over the last month I've used her at least twice a day for photos or for play. Her orifices have held up beautifully though and I have no major tearing despite not being as careful as I probably should be. Perhaps it's the mineral oil treatments that have helped with this, or maybe the ultra-soft TPE is able to stretch in ways that make damage of this kind less likely.
At this end, I adore my Suki life like love doll. She's cute, sexy, and always up for the next thing. She looks as good as the day she came out of the box, even after a month of very heavy use. I do need to learn to be more careful, especially in the heat of the moment, but so far her high-quality TPE body has let me get away with some pretty careless moves.
I highly recommend lifelike sex doll Suki for first-time doll owners and others who are looking for a great value in a scaled-down doll. Her size and weight are great for both quick and extended sessions. She's forgiving enough that you can make the occasional mistake with her and she'll still hold up well. If you're considering a doll in the 100-125 CM range, you absolutely must take a serious look at lifelike love doll Suki.
I've included a series of photos of lifelike sex doll Suki in her workout clothes. These pictures are only lightly edited so that you can get a better sense of Suki's Japan Light White skin tone. I have added makeup of course, but I hope they are helpful nonetheless.
Lifelike Sex Doll Suki 110 cm: Discover Suki
Click here to access Suki`s official webpage with plenty of videos and pictures!