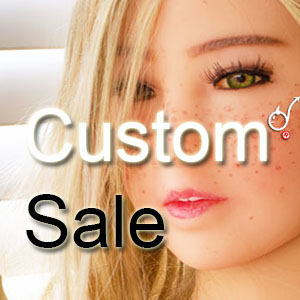 Custom Sex Doll SALE: 145 cm Sex Doll Suriwaai with Freckles
Hello,
Special custom sale on this unique Suriwaai 145 cm sex doll customized with ultra-premium make up materials (value of USD 60) and exclusive custom makeup art work with theme: sexy 18 virgin babe with freckles.
Pictures of the actual sex doll attached.
Special price of ONLY US$1499 instead of US$1899!!
Only one available.
Purchase this unique version of our 145 cm Suriwaai sex doll now with PayPal by clicking on the PayPal button hereunder:
Other Holiday 2017 crazy deals: https://asexdoll.com/product-category/asian-sex-doll/
Inquiries: belsinco@gmail.com
Cheers, Mig & Adventurer/ Sili Doll
Offer full details as follows with more pictures hereunder:
————————————————————
Item for sale: Unique Custom Suriwaai™ (145 cm) Sex Doll with premium makeup art work
Condition: all new
Also included: 1 premium blonde wig, 1 pair of premium blue eyes, 1 set of fine lingerie
Modifications: none
Specifications: Extra Soft Korean TPE, fully premium articulated internal skeleton, in-built vagina, premium articulated fingers, 3 penetration holes with internal ribbing texture, extra deep vagina depth of circa 18 cm, anal depth of 18 cm, and oral depth of 13 cm
Gifts: USB heater, bullet vibrator, cleanser
Ask price: only $1499 (Special Black Friday Price)
Payment forms: Paypal (pay using your Paypal account, Credit and Debit Cards)
Shipping: Free UPS Shipping to the USA. Head ships from California. Body of the sex doll ships from China/ Hong Kong
Age of item: less than a week
Bought new or previously owned: New
Damage to item: No
Repairs made: No
Customization made: yes