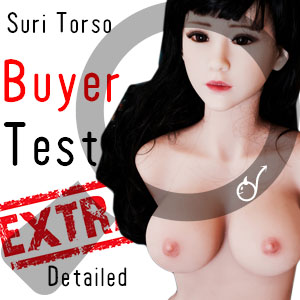 Sex Doll Suri Torso New Buyer Review (September 2017)
Dear all,
We are please to share with you this new buyer review of our Suri Torso Sex Doll.
Please note we have a new Suri Torso Sex Doll which ships from Los Angeles. If interested, please email us.
Enjoy the review and have a nice day!
Regards, Mig and Sili Doll
—Please click here to be redirected to the original review available on dollforum.com—
Sex Doll Suri Torso Review: Introduction
Hey everyone! Today I'd like to share a my thoughts on the new Suri Torso doll from Sili Doll. I won't go into great technical detail in this review, as Dollaficionado is quite thorough in that regard. Instead, I'll share my own feelings about this amazing and innovative realistic torso sex doll.
Some time ago, Mig asked that I take some promotional photos of Sili Doll's new torso sex doll. As you may know by now, I'm a huge Sili Doll fan, but I have yet to experience their 135 cm sex dolls. I couldn't really say no to the chance to meet a Suri sex doll and do a favor for a good friend in the doll community. Nevertheless, I had some serious doubts about what I had agreed to do.
To be honest, I've never been a big fan of torso sex dolls. I have some experience with some hip products (e.g. Meiki full hip) which are great sex toys really, but they just aren't for me anymore. I never could quite get over the feeling of it being somehow dismembered, incomplete, out of place, and therefore just a tiny bit grotesque. Hips were fine to use with a little porn to ignite my fantasies, but I found them impossible to connect with in the same way I eventually connected with my Suki sex doll and Sukiwaai sex doll, and thus hips weren't really that satisfying for me. When searching for my first sex doll, I knew I wanted something small, light, easy to conceal, and affordable, but I wrote off torsos entirely because I was worried I could never quite shake the impressions I got from my previous hip toys: that nagging feeling of incompleteness.
When Mig asked that I photograph this torso sex doll, I was quite anxious that I would not like it. Would I be able to find the beauty in a sex doll that lacked arms and legs? Would I be able to connect with it in a meaningful way? As the Suri Torso sex doll made its way to me, I asked myself: without this connection, would I even enjoy taking these photos?
When she arrived after a few days travel time, I unpacked the box with all these hesitancies swirling in my head. When I pulled her out, put on her head, and sat her upright all these anxieties began to disperse. What I found was not some inanimate incomplete part of a thing that lacked the aura of personality necessary for an intimate connection. Instead, I encountered a sex doll infused with tremendous character, style, sex appeal, and a charm uniquely her own.
Sex Doll Suri Torso Review: Introducing Suri-T
Suri Torso sex doll is a truncated version of the popular and quite beautiful Suri doll sans arms and legs (at least below the thighs). In addition, she features a new head and face with very cute asian looks. As I first unboxed Suri-T sex doll, I was immediately impressed by the design of the sex doll. She has not only an incredibly sexy body complete with voluptuous curves, perfect breasts, and a cute ass, but also thighs that articulate at the hip. This distinguishes her from most other torso sex dolls, which do not include a skeletal structure below the waist. This great innovation from Sili Doll makes Suri-T sex doll so much more doll-like than other torso sex dolls. She's posable, she sits up on her own, and bends and twists in compelling ways. This articulation is great for play of course, and it gives her the sense of movement and character that other torsos lack. In short, she had exactly what I needed to feel the kind of personal relationship with her that is so important to my photographic process.
Sex Doll Suri Torso Review: The New Face of Suri-T
Sili Doll's innovations don't stop at their skeletal structure with this new sex doll. Indeed, the face is redesigned from the skull out. Suri-T's new head has a much more robust and complete skull than does Suki sex doll or Sukiwaai sex doll, and the result is a very realistic feel beneath the hands. Because the skull fills more of the head, the TPE flesh of the face is thinner. Touching Suri-T's face feels much more human like because you can only push in so far before feeling the firm structure of the skull. It's a great design that is sure to impress people who enjoy the delights that a sex doll's head can offer. Unfortunately, I haven't had any kind of intercourse with this sex doll but I imagine that there is much less distortion during oral and the internal ribbing of the throat feels fantastic around the fingers. . Honestly, it takes tremendous self-control to not go there, if you know what I mean… Finally, kissing would also feel extremely realistic, very close to the feel of holding a real person's head in your hands.
Of course what's inside is only part of the story. Suri-T's face is extremely cute and sexy. She has very delicate, youthful asian features that give that perfect chinese girl-next-door impression. Her head is very well proportioned and looks great on Sukiwaai sex doll's body too, so if you're a Sili Doll owner and want to experience this new head on your Sumi, Suri, or Sukiwaai sex doll, consider adding this head to your collection for a whole new experience. You won't be disappointed – she's got looks and substance!
Sex Doll Suri Torso Review: About the Sex Doll Body 
As impressed as I am with the new face, I'm even more taken by the body of this sex doll. Overall, Suri-T sex doll has the body of a thin, but not overly skinny young woman. The well-sculpted neck and shoulders lead to perky round breasts, a cute little tummy, and the sexiest full hips and butt I have seen on a sex doll.
In my view, softness is everything for a TPE sex doll, and Sili Doll's unparalleled reputation for being soft yet durable is carried forward with this new sex doll. The Korean TPE blend does not disappoint. Suri-T's breasts are so incredibly soft that they are true rivals to mother nature's best work in this department. They feel like a young woman's full, perky boobs. They squeeze and bounce so nicely and are the perfect size with enough cleavage to allow any kind of play your imagination desires. They have some nice detail around the nipples and areola, which is are bit small for my exact tastes, but a little makeup easily corrected that to my satisfaction.
Suri-T's softness also complements her tummy fantastically. As Dollaficionado mentioned, Suri-T is not ultra-skinny. Instead she has a subtle little rise in her tummy that continues down to her pubic mound. I adore this sculpt as it's a refreshing take on this part of a woman. The extra TPE here makes the entire torso look, and more importantly, feel so realistic. It just validates her large breasts and full hips so incredibly well.
I also can't say enough about her hips and ass. The curves here are just right, large without feeling overly exaggerated. Suri-T has the cutest booty if you like a youthful and fit look without going overboard and being comically large. Don't get me wrong, I understand and appreciate sex dolls that exaggerate these areas, but if you want a form that seamlessly blends both realistic and fantasy elements, Suri-T sex doll does just that.
Sili Doll's superior craftsmanship is also very apparent in this sex doll. This doll has no visible seams whatsoever. Meanwhile, the TPE blend is the perfect compromise between softness and durability.
Sex Doll Suri Torso Review: Half a Leg Up on the Competition
The decision to include legs truncated above the knees makes Suri-T an outstanding torso sex doll. It just opens up so many new possibilities that other torso designs simply do not allow. If you like doggy style, missionary, oral sitting upright, posing for photos etc. this torso will do that. In my view, Suri-T's leg design makes the entire experience of owning and playing with her so much more like that of a full sex doll. At the same time, the lack of feet, arms, and especially hands makes this sex doll perfect for people who are focused primarily on sex. There are all the parts you want for great a great sexual experience but none of the vulnerabilities at a fraction of the size and weight of a full sex doll. I adore my full dolls of course, but any sex doll owner will tell you that rough or incautious play is a terrible idea that is certain to mangle your sex doll's hands, elbows, ankles and so forth. I'm not saying that Suri-T is invulnerable and caution is advised, but the ability to move her around is greatly improved relative to a full sex doll, making posing and playing a stress free experience.
Sex Doll Suri Torso Review: Deep inside Suri-T Sex Doll 
Knowing that I cannot afford to keep this sex doll, as I have neither the space nor the money to maintain her, I have not allowed myself the pleasure of the full Suri-T sexual experience. That said, I have explored her internal cavities some (with a finger) and I'm quite impressed with the attention to detail in the creation of a realistic experience. The anus has some nice detail externally, but the internal texturing is most intriguing. It has a series of ridges followed by nubs, followed by ridges. I think great attention to creating an accurate simulation when into this cavity design. It feels incredibly lifelike. I can only dream about what it feels like to really penetrate her perky ass. Again, this has been a real test of my self-control!
Like the anus, the vagina has great external detail and a fantastic internal texture. To the hand, it feels a little wider and more accommodating than the anal cavity, but with a complex series of very stimulating nubs and waves. I appreciate having varied levels of tightness between the anal and vaginal cavities as I think that greatly increases realism and immersion by providing meaningfully different sensations. After prodding her a little down there, I do not doubt that Suri-T's vagina provides more physical stimulation than the real thing. From my previous experiences with Suki and Sukiwaai sex dolls, I can also safely speculate that Suri-T's special Korean TPE blend will hold up quite well to vigorous use over time as long as plenty of lubricant is used. This torso is built, from the ground up for sex, and yet I'm not allowing myself to go there! Imagine my anguish!!!
Sex Doll Suri Torso Review: Who will love Suri T?
In my opinion Suri Torso Sex Doll is a great doll for two different kinds of sex doll owners, those new to the hobby and those more established doll owners looking for a convenient sex doll. If you looking for your first sex doll and not quite ready to commit to the storage requirements, financial investment, and extreme amounts of care and maintenance that a full sex doll requires, check this torso out. If on the other hand, you have sex doll experience and maybe already own a full doll or two, but are looking for a something more suitable for quick sexual activities, this torso is an excellent choice for you as well.
Suri-T stores in a normal-sized inconspicuous looking box which can easily be hidden under a bed or in a closet. Also, lacking hands, knees, elbows, wrists, ankles, and other very vulnerable parts, Suri-T is less likely to suffer from the handling mistakes that virtually all new doll owners, or overly excited doll veterans make. She's much easier than her full-size counterparts to keep clean and well maintained, and light enough to move around without much thought. Nevertheless, she's still a great sex doll with an expressive face and well detailed and super sexy body.
Sex Doll Suri Torso Review: Final Thoughts
Ultimately, I am in awe of Sili Doll's Suri Torso. Like Suki and Sukiwaai before her, Suri-T has won me over completely. As I've said before, Sili Doll is one of those companies that is constantly striving to create great products that are both best-in-class and affordable. The Suri Torso represents the best of Sili Doll's creative imagination and may just redefine the entire torso doll genre. From the amazing new head to the innovative hips and legs, Suri-T is the product of superior design and craftsmanship and yet is offered at an excellent price. Sili Doll has even brought back their review discount, so if you do decide to buy your own Suri-T, take some pictures and post your own thoughts on this forum and you'll get an additional rebate! I look forward to reading your review!
Sex Doll Suri Torso Review: How it Compares with Sukiwaai