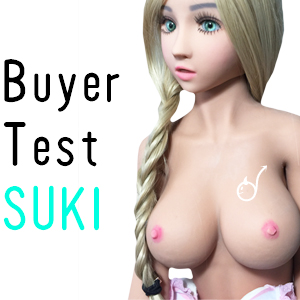 Sex Doll Video: Unboxing
Sex Doll Video: Unboxing by buyer
Warmest thanks to happy buyer KillO7 for this great 8 minutes sex doll video (unboxing), posted on Youtube, and buyer review video of Suki (110 cm) Sex Doll
Thanks also to KillO7 for his written review and opinion of Suki (110 cm) Sex Doll:
Click here for the original post
– Quote –
Hello everyone, here is a short review of my Sili sex doll Suki.
A full video unboxing and full review of the doll is on my youtube page.
So after receiving my doll on the friday, I am really excited to finally have her. After reading the reviews of others who have brought the doll, and watching the Sili dolls youtube video of her again and again. I must say I am really impressed with my Suki doll. Which inturn, I have named Yuki. Being made from Korean TPE, made her feel so good in my arms.
One of the main selling points for me when it came to getting Yuki was her feet, being someone who has a foot fetish, the detail on the soles are really impressive, one of the best I have seen on any sex doll.
The other selling point are her breasts, which are nice and firm, you can have a really good time in groping her, just make sure you use lube on her breasts and you make sure you are gentle with her.
Yuki's face is really cute, my version of her comes with brown eyes as well as a brown wig, plus her blonde pink wig.
Being 110cm and with a weight of 28.6 pounds, made her easy to pick up and carry. Which is great, if you want to take her to one place to an other.
Overall Suki is a wonderful doll, sweet and really sexy I am really glad that I bought her. If were to ask me if buying Suki was worth it than I have to say yes. You won't be disappointed.
Finally I want to thank Mig and Cindy for helping me make my decision. Both of them were really helpful in both answering my questions and keeping me updated when the time came for my doll to be shipped to me. Plus I want to thank other dollforum members who brought Suki and wrote their reviews, it helped me a lot, thank you very much.
– Unquote – 
Buy Suki (with Free Express Shipping and Free Lingerie) now with Paypal Express Checkout:
---
Why Sili Doll?
* Korean TPE made with in-house design
* Free DHL Express Shipping
* Order to Delivery: average 5-7 business days
* USA Duty Paid
* Discreet packaging